One of the key results of ENSNARE is the development of the modular façade concept with the integration of solar technologies.
Under a plug & play concept, the Industrialised and Modular Envelope System is designed allowing alternative configurations of three solar components that can be incorporated in the external layer of the modular system: photovoltaic, solar thermal, and photovoltaic thermal.
As part of the development process, a key parameter to evaluate is the fire protection. This will be done through Single Burning Item (SBI), a method of test for determining the reaction to fire behaviour of building products (excluding floorings) when exposed to the thermal attack by a single burning item. The performance evaluation in ENSNARE consists on a two-step approach to assess how well the façades hold up in the event of a fire:
First, evaluation of the system's reaction to fire with an intermediate scale test called the SBI test (according to EN 13501-1, work on the classification according to the behaviour against fire of construction products and building elements). This helps to assess how well the system can contain the fire in the construction of a building.
Once understood how the system reacts to fire, it is tested how the fire spreads on a larger scale. This assesses the performance of the entire façade system in case of an external fire. This test follows an internal process developed by Tecnalia based on the proposed European method for "Assessment of fire performance of façades using medium fire exposure" (which is currently under development), and on the ISO 13785-1 standard, that tells us how a façade or cladding material reacts to fire when it's exposed to heat from an external fire with flames directly touching the façade, which is used as a screening tool.
During 2022, the first SBI tests were performed in Tecnalia's laboratories for five different samples:
1 photovoltaic sample with aluminum substrate
1 photovoltaic sample with synthetic stone substrate
1 hybrid photovoltaic-thermal (PVT)
1 thermal solar sample
1 high pressure laminate (HPL) sample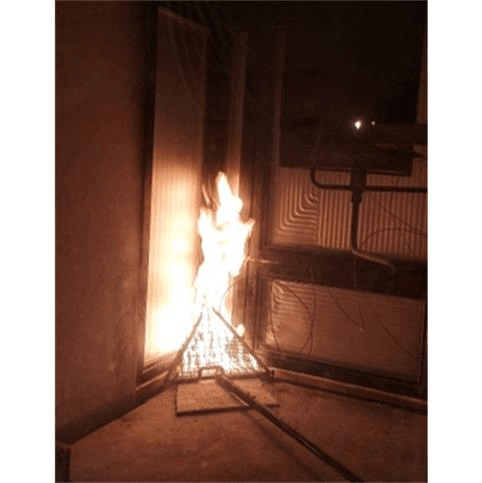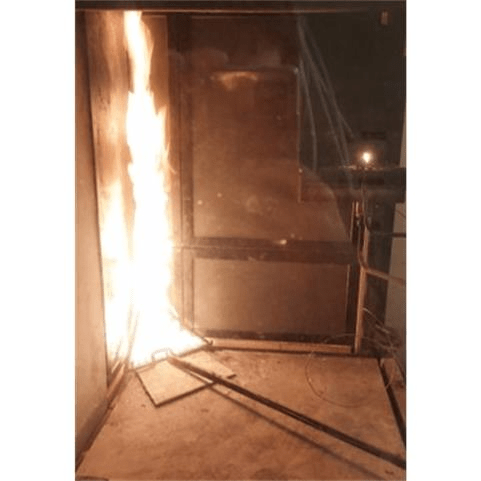 The outcome of the testing campaign provided an estimation of the reaction to fire classification. To get full certification according to EN 13501-1, European classification that indicates the ability of a construction material to resist fire and limit its spread, it would be needed to test three replicas of each technology and to conduct a flammability test. The next stage is to assess how the fire would spread in the complete system at real size.
In summary, the initial evaluation of the reaction to fire of these five lining systems has been positive, and they are expected to achieve a high fire resistance classification. In addition, the next step in the analysis of its behaviour against fire includes a full-scale test to evaluate the spread of fire in the complete solution, which guarantees a complete and safe evaluation.